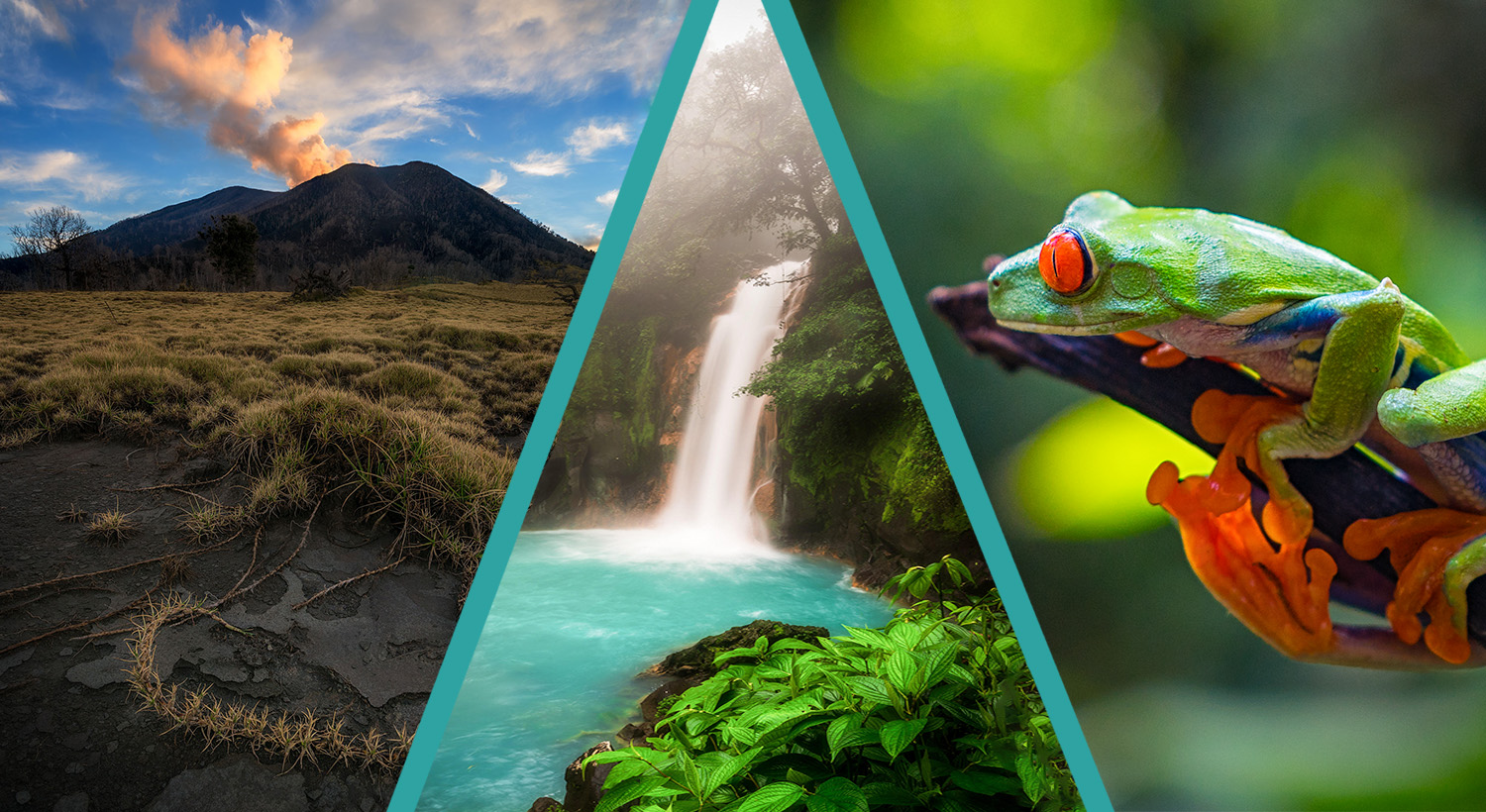 All-Inclusive Photography Workshop
Costa Rica | December 7-14, 2019
(🇪🇸 Español)
Have you dreamed of taking your landscape photography to the next level while exploring nature in one of the world's most biodiverse ecosystems?
We can provide that for you. We, Tomas and Juan, will be your guides and would be honored to have you join our carefully crafted 'Volcanoes & Waterfalls' tour in beautiful and vibrant Costa Rica. As our theme states, during this tour we'll focus on showcasing some of Costa Rica's most wondrous waterfalls and vast volcanic landscapes in the best conditions possible, while offering thorough guidance and in the field tuition on composition, light and camera settings. Our goal is for you to go home with some great new shots in your portfolio.
Tour highlights
⭐ 8-day, all-inclusive photography workshop
⭐ Photograph the most stunning landscapes in Costa Rica
⭐ Improve your photography, in the field and w/ post processing sessions
⭐ Enjoy the beauty of one of the most bio diverse places on the planet
📋 Tour info:
Date: December 7-14, 2019. Departure from San Jose.
Cost: $3250 (double lodging, inquire for single supplement)
Deposit: $1000 due at registration
Group size: 4 minimum, 10 maximum
✅ Included:
Guidance and post processing sessions by two experienced landscape photographers (read more about Tomas & Juan)

All accommodation (7 nights, we will stay in top-rated hotels and resorts)

All park entrance fees

All transportation (comfortable minivan with A/C and professional driver)

All breakfast, lunch and dinner
Itinerary does not include: Airfare to San Jose, gratuities for local lodges, alcoholic beverages, non-meal time soda and bottled water, items of personal nature, travel insurance.
Why join us?
As a participant, you are our top priority. Throughout the tour we'll be staying in top-rated 2 to 4 star lodging, and have arranged private transportation in a comfortable, air-conditioned minibus. All meals are included (3 meals a day and snacks), so all you'll need to bring is the right gear (read more about that in our FAQ), enthusiasm, and to be prepared to have an excellent time!
Tour itinerary
Day 1: Arrival / San Jose
We'll meet at Hotel Bougainvillea (San Jose) by 5:00 PM and have dinner as a group around 6:30 PM. During and after dinner we'll have some time to to get to know each other, go over the upcoming week's schedule, and any questions you may have.
Day 2: Turrialba Volcanic Area
The adventure begins! After a rich Costa Rican breakfast, our driver picks us up at in the morning as we head to the first location of the tour, the Turrialba volcano. On the way we'll make a stop at Irazu volcano, and its impressive crater lake. In the afternoon we'll check in at our hotel - in time to shoot the majestic Turrialba volcano during the golden sunset light as well. Our hotel for the night will be Hotel Volcan Turrialba Lodge. It's perfectly situated with an incredible view of the volcano, and plenty of unique compositions can be found within a short walking distance. If we get lucky with clear skies, we can continue to shoot the star filled skies after dinner.
Day 3: Bajos del Toro Waterfalls
As an option, one can take advantage and shoot the Turrialba volcano during the first morning light of a spectacular sunrise. Afterwards, breakfast will conveniently be provided for us at the same Turrialba Lodge before we get on the road for the 3-hour drive to the Bajos del Toro area, and check into our accommodation, the Bosque de Paz eco lodge.

Bajos del Toro is known for its many waterfalls. So, after lunch we'll head out to shoot the iconic and impressive Catarata del Toro; a gigantic waterfall that drops into a volcano crater. If there's time, we'll shoot a second waterfall on the way back to our hotel, before having a soulful dinner in the adjoining small town.
Day 4: Bajos del Toro / Arenal Volcano
We'll meet for an early breakfast to make the most out of our second day in Bajos del Toro. After collecting our items and checking out of the hotel, we'll head towards one of the hidden gems of the Bajos del Toro area - a unique site where adventurous trails are combined with no less than 8 gorgeous waterfalls to admire (and photograph, of course!). Weather permitting -- this area can see sudden showers, so don't forget your rain gear, including backpack covers! While on the trail, we'll have the opportunity to shoot several waterfalls as we descend, followed by a picnic down at the river, surrounded by some of the most beautiful waterfalls you'll have ever seen, each one unique. We then return to the parking area and get on the road to our next destination, La Fortuna. Arriving by sunset will gives time to rest in out comfortable minibus, and prepare for the views from the "1968 Trails". Once the 'good' light is gone, we'll check into our next accommodation, which is aptly named 'Linda Vista' (beautiful view) and looks out over the Arenal volcano. After a scrumptious dinner, there will be time to relax from this action-packed day of hiking and shooting!
Day 5: Arenal Volcano & Observatory
This Wednesday morning, we meet for breakfast at 7, followed by time to work on post-processing some of the images we've taken so far. Juan and Tomas will show you their workflow, using participants' images to provide tips and tricks on getting the most out of your photographs, through the use of various techniques in Lightroom and/or Photoshop. After these sessions, we have lunch and head to the Arenal Observatory for a guided walk to a nearby waterfall, gardens, and frog pond. (We just may find some red-eyed tree frogs hanging around!) We shoot sunset from the visitors' centre deck looking out over the Arenal volcano, and conclude the day with a hearty meal in the historic town of La Fortuna.
Day 6: Rio Celeste (Blue Falls)
After breakfast at our hotel, it is time to get on the road again and head to the Tenorio National Park to photograph the famous and magical blue river and waterfalls (Rio Celeste). These sky-blue rivers are formed by minerals created by a volcano's underground activity and are extremely photogenic, especially in combination with the vibrant greens of the jungle canopy. After a beautiful scenic drive, a moderate hike will take us to the waterfall and blue lagoon. We continue to shoot throughout the morning, soaking up all the beauty this place has to offer! Around noon, we hike back and have a typical Costa Rican lunch at a soda (restaurant) and prepare to visit the second location for the day.
Day 7: Llanos de Cortes Waterfalls
This morning we will visit yet another gorgeous waterfall, a true oasis in the Guanacaste province, called Catarata Llanos de Cortes. These falls are wide and wispy, with thin streams of water tumbling along the mossy rocks: a photographer's dream! We arrive early to beat the crowds, and with some luck, will have the place to ourselves to shoot various compositions in the early morning light. After shooting, we have time to hang out for a bit longer and relax in the fresh water at the falls. We then head to our final location, the waterfall gardens in the cloud forest of La Paz - it is about a three hour drive and we will stop at a local restaurant for lunch.
The astonishingly beautiful La Paz lodge features a garden with lush waterfalls, butterfly observatory, animal sanctuary, hummingbird garden, and breathtaking views of the Poas volcano craters and lagoon. It's the perfect place to relax and unwind and top up our memory cards with some last waterfall and nature shots before we drive back to San Jose the next day!
Day 8: La Paz Lodge / Good bye
The final day of the tour has come! We come together for one final breakfast, and to enjoy Costa Rica's delicious freshly brewed local coffee, and hang out in the gardens and waterfalls of the Peace Lodge before we head back to San Jose. Our driver can either drop you off at the airport or bring you to your next destination or hotel within the city of San Jose. You will leave not only with a memory card full of exciting shots, and new photographic skills that will improve your photography wherever you are, but new friends, experiences, and memories that will last a lifetime!
✏ Registration & FAQ
If you would like to register for this workshop or have additional questions, please fill out the form using the sign up button below and we will get in touch with you as soon as possible. Please also take a minute to review our Terms & Conditions, containing important information about our cancellation and refund policies. For frequently asked questions, refer to our FAQ page or shoot us a message.